Dog Training on Zoom… Really?
Read Potter Paws top ten reasons why online training is for you.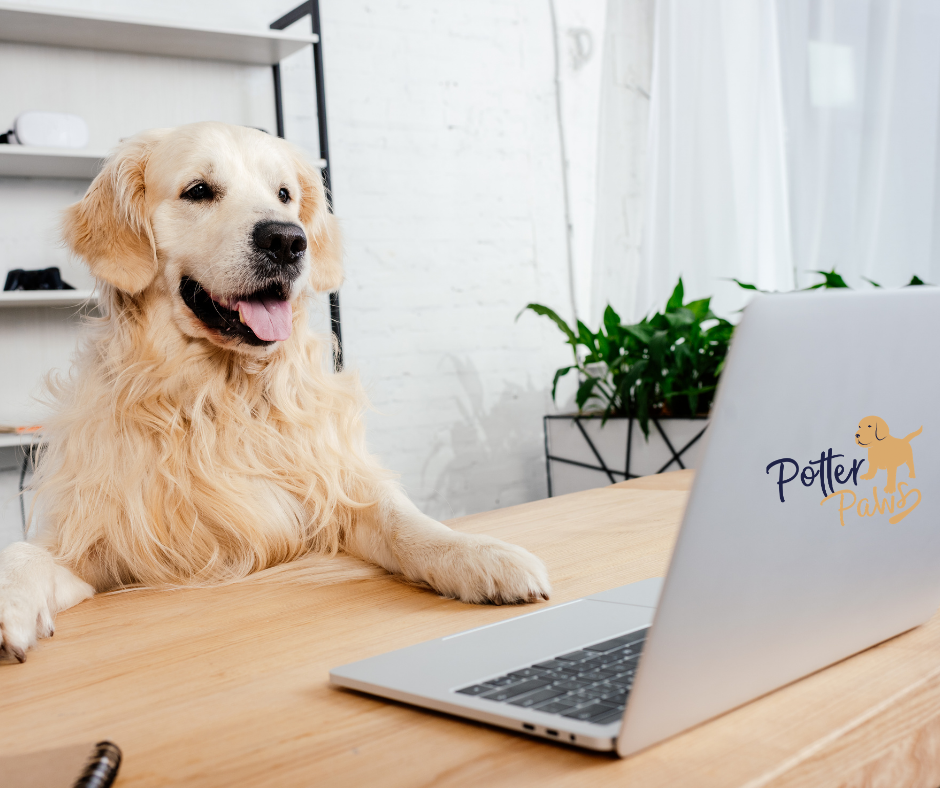 At Potter Paws, we've been delivering online dog training since the very start of the first lockdown and we love our virtual classes. Although you might not realise it, they actually solve one of the most common problems experienced by owners trying to train their dog: distraction.
Lots of people think the main reason for taking a
puppy to training
classes is to socialise them. Although puppies do need to get used to sights, sounds and other people and dogs, the idea is to train them to ignore everything and focus on you! Not easy when you're in a field full of smells and strange noises.
Direct Line Pet Insurance did some research and found that an incredible 5.7 million new pets were purchased between the start of lockdown in March and the start of September. This included 2.2 million dogs. In some ways coronavirus has given us the time to dedicate to pets but they still need training and dogs can be hard work if they pick up bad habits.
To zoom or not to zoom?
We've had lots of lovely testimonials from clients who've joined us on zoom over the past nine months. People talk about the safety and comfort of being at home while trying new things and even being glad of the mental stimulation for locked-down dogs. Here are our top reasons why online training is the way to go.
You don't have to be a tech whizz to take part. We send a code for the zoom meeting and you use free software, easily downloaded and installed, to take part. All you need is a phone, tablet or laptop and you're up and running.
It's not weather dependent. Dog training can be a little hit and miss at this time of year but online lessons mean you can choose your location. Lots of our clients have been joining us from their living rooms, no mud to be seen!
There are no distractions. Your dog will be easily distracted and the point of training is to teach him to focus on you. Doing this, and reinforcing it, before heading out to busy public places can make it easier to put into practice when you actually need it. By then, your dog has formed a habit of the right behaviour and knows what gets a reward.
It's easier to ask questions. Trying to make yourself heard, or get a trainer's attention in a windy field is more complicated than asking or typing a question on a zoom call so it's easier for us to focus in on particular problems as they are happening and provide advice and support.
You're at the scene of the crime! Some of the worst behaviour displayed by our furry friends happens when they are at home in their comfort zone. Things like jumping up when the doorbell goes or standing up and stealing from the kitchen sides are hard to train for in a field but, with zoom classes, we can recreate the scenario and offer specific advice.
Being alone while training allows for a better bond to be built between dog and owner. Often, people think puppies need to be allowed to play with other dogs. While that's not a bad thing for them to experience, it's more important in the early days for them to learn to listen to their owner and zoom enables this to happen.
Convinced or still cautious? Why not try
booking a session
to see what it's like. Here are some testimonials we've received from happy customers:
"Being able to practice the exercises in the comfort of my own living room is such a bonus, without the many overwhelming distractions of outdoors…. Give it a go!"
"Logan and I have learnt so much from this class….would recommend to anyone who is looking for puppy classes, we are already moving on to Houndschool and look forward to learning much more."
Virtual training doesn't have to end when the lockdown does. Our
online courses
are available 24/7 with pre-recorded exercises for you to watch when and where you like, over and over again!